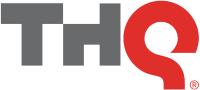 THQ was a publisher that published a variety of games for PC, consoles, and mobile from 1990 to 2013, when it closed. It published both of Kaos Studios video games, Frontlines: Fuel of War and Homefront.
Origins
THQ was established in April 1990 by Jack Friedman on a personal investment of $1 million US dollars. The abbreviation THQ stood for Toy Head Quarters, as it was originally founded to produce toy products.
In September 1990, THQ acquired Brøderbund's video game division, and released their first video game, Peter Pan and the Pirates in January 1991.
In the mid-2000s, THQ acquired Kaos Studios after their layoff by DICE, and later published both of their games.
Fate
In 2012, after struggling years with debt, THQ filed for Chapter 11 bankruptcy.
In June 2014, Nordic Games announced that it had acquired the THQ brand and trademarks, and would publish games under it.
See Also